The technology of HPT series multi-cylinder hydraulic cone crusher can obtain larger output capacity in smaller space with less or smaller volume of equipment. The HPT multi-cylinder hydraulic cone crusher adopts the full chamber feeding to realize the unique "inter-particle lamination crushing". When the material passes through the crushing chamber, the principle of multiple crushing action makes the particle size more uniform. For aggregates production, the cubic shape of the product meets the sand and gravel industry standards, thereby bringing greater investment benefits to users.
Working Principle of hydraulic cone crusher:
As is shown, the motor drives eccentric bushing revolve via V-belt, driving shaft and bevel gear. The mantle is revolved under the action of eccentric bushing. Sometimes, the concave is near to mantle sometime, the concave is far from mantle. The raw material is being pressed and impacted all the time in the crushing chamber. Then the crushed the material is discharged from the discharge opening.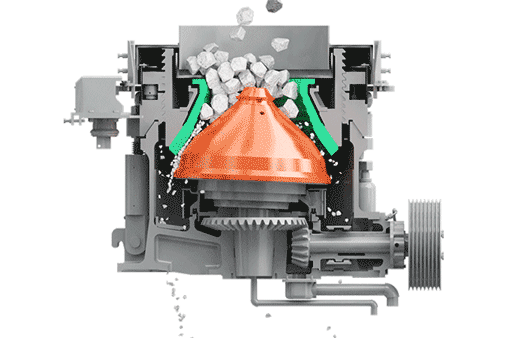 Advantages
1. High efficiency: The machine adopts the optimized structure of fixed main shaft and small spherical shaft, which is 5% ~ 15% higher than the efficiency of the old spring cone crusher.
2. Large production capacity: The machine is designed with a perfect combination of crushing stroke, crushing speed and crushing chamber shape, so that the output of this machine is 35% ~ 60% higher than that of the old spring cone crusher under the same crushing cone size.
3. High-quality aggregate: The machine adopts the unique lamination crushing principle to produce the crushing effect between different aggregates, so that the proportion of cubes in the finished product is significantly increased, the needle-shaped stones are reduced, and the particle size is more uniform.
4. More stable operation: When there are hard objects such as iron blocks that cannot be broken into the machine, the over-iron protection device will automatically release it and then reset it immediately.
5. Multi-point split hydraulic lubrication control system can ensure double protection of bearing lubrication and overload protection of the machine.