As a mature manufacturer of mobile concrete batching plant, HAMAC designed this series mobile concrete batching plant which is suitable for some projects which always finishes in not so long time. It is equipped famous brand components such as pneumatic cylinders, vibrators, air compressor, SICOMA concrete mixer and motors etc.
Working Principle:
A wheel loader will feed the 4 different hoppers for different sizes aggregates, and then the aggregates and sand will be weighed by the load cells, and the cement comes from the cement silo by the screw conveyor, water is supplied by the water pump will be weighed as well by different load cells, then all of these material will be fed into the mixer for mixing. After mixing, the concrete will be discharged into the concrete mixer truck. All of the weighing, mixing and discharging process are controlled by the software automatically.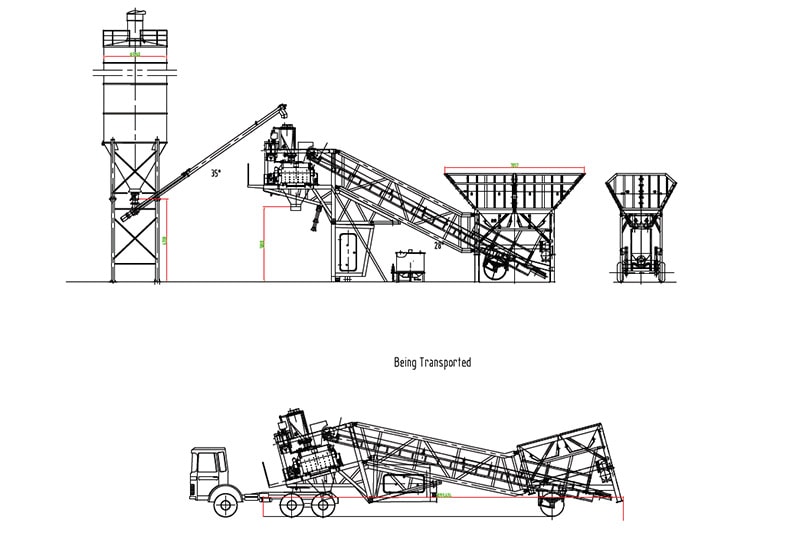 Advantages
1. The structure is compact, and almost all the processes of concrete production are concentrated on the trailer unit;
2. The operation interface is humanized, the working performance is reliable, and it can still run stably in various harsh environments;
3. The twin-shaft concrete mixer has excellent continuous operation ability, comprehensive mixing trajectory, strong mixing motion, and rapid and uniform mixing;
4. Highly automation, excellent maneuverability, simple operation and good stability;
5. The structure is firm, the space layout is compact and reasonable, which ensures flexibility and production capacity at the same time ,so which is not inferior to the stationary concrete batching plant;
6. The mobile batching plant occupies less area and is easy to move around, which greatly reduces the amount of basic engineering;
7. The mixing and metering platform is equipped with an epitaxial platform, and the space is as same as the stationary concrete batching plant, which fully guarantees the needs of commissioning and maintenance.