HMC Series compound cone crusher has hydraulic clearing system, hydraulic opening adjusting function, easy for placing concave and mantle, decreasing management and maintenance cost, It is widely used for medium and fine crushing of granite, basalt, disbase, cobble, cobblestone, iron ore etc.
Working Principle of compound cone crusher:
When the machine is working, the moving cone of the crusher makes a swinging motion around the fixed point. Therefore, the crushing walls of the movable cone and the fixed cone of the crusher are sometimes approached and sometimes separated, so that the materials are continuously impacted, squeezed and bent in the crushing cavity to realize the crushing of the materials, and complete the crushing and discharging. The surface of the crushing cavity is covered with a wear-resistant high manganese steel lining plate. The size of the discharge opening is adjusted hydraulically or manually.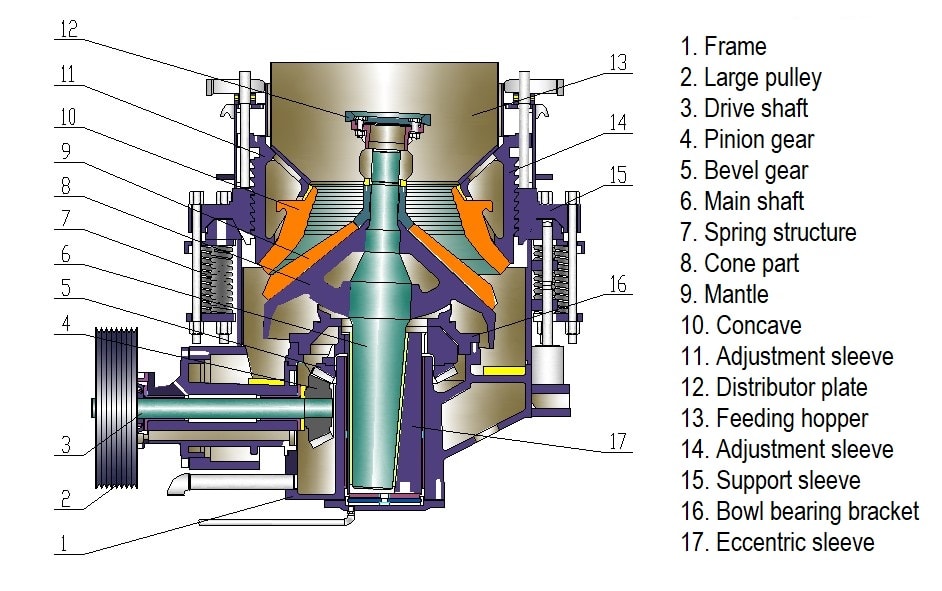 Advantages
1.The machine body is robust, good appearance and durable.
2.Semi-automatically control, hydraulically adjusted, it can effectively control the size of sand and stone, can be adjusted quickly and convenient.
3.The concave and mantle has no filling material in it, so it is easily to be replaced. The concave and mantle, Mounting surfaces are precisely made in the special machine tools with special design.
4.The crushing cavity is specially designed. It can greatly increase the production capacity.
5.It provides iron protection, and is safe and reliable, cavity automatic clearing, fast running and time-saving.
6.The machine is a structure of labyrinth, has good grease sealing and dust prevention effect.
7.The oil circulation cooling system is designed according to a lot of domestic customers' actual situation and characteristics. The temperature control system and pressure control system are easy to control and operate.
8.The copper set is made with special formula and processing technology, and it is durable.
9.It is designed to be light and compact with reasonable structure.