Detailed Photos
Performance
Power system: Adopt original VOLVO/DUETZ and LOVOL diesel engine;

Main oil pump: Adopt HAWE series or Rexroth series from German, Kawasaki series from Japan. Mainly we use variable displacement piston pump to make sure the stable reliable working performance. Because of the pressure exceeding and overflow function, the main oil pump and diesel engine will be protected successfully;

Chassis: We adopts the Dongfeng chassis from the biggest truck factory in China. Its quality is reliable. Its emission standard is National IV.

The high material sucking technology: Optimized inner wall of hopper, smooth S tube valve, and accurate blade angle ensure the concrete is sucked into the concrete cylinder, improving the efficiency to more than 90%;

Large diameter of concrete delivery cylinder: The diameter of concrete delivery cylinder is enlarged to 230mm, reduce the upward and backward wearing times of concrete pistons, lengthened the service lift of concrete pistons.

High quality wear resistance parts: Integration of German technology and advanced technology, ken mechanical friction rotating components' service life greatly improved, with unique lubricating device, mechanical rotation reaches maintenance-free state.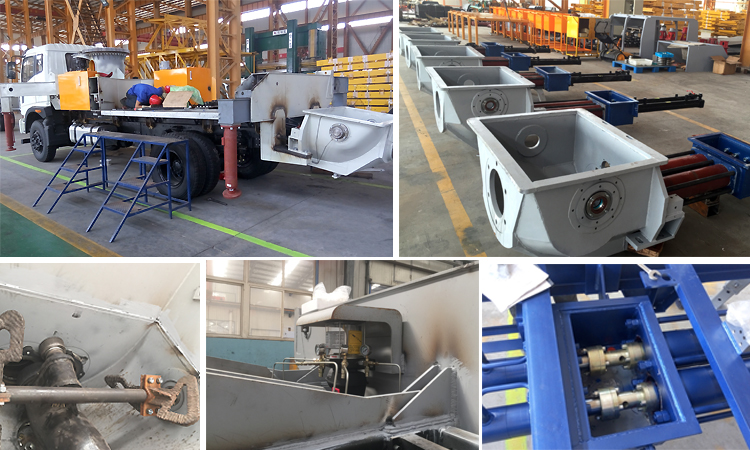 Specification
ITEM
UNIT
SPECIFICATION
Model
HMC5141THB
Driving system
Chassis brand
FOTON DAIMLER, left drive
Chassis model
BJ1113VFPHG-RA
Fuel type
Diesel
Displacement/Power
L/KW
6.7/156
Displacement standard
Euro III
Tyre model
8.25R20
Axle base
m
5.0
quantity of axles
2
Max. driving speed
Km/h
90
Front wheel base
mm
1900
Back wheel base
mm
1800
Min. turning radius
m
9
Pumping system
Brand of diesel engine
DEUTZ Brand
Diesel engine model
BF6M1013-25T3R
Diesel engine power
KW
186
Driving mode
Hydraulic driving
Oil cylinder inner diameter × stroke
mm
Ф180×Ф125×1800
Concrete cylinder inner diameter × stroke
mm
Ф230×1800
Oil pressure of system
MPa
32
Switch of H-pressure and L-pressure
Equipped
Fuel tank capacity
L
290
Oil tank capacity
L
600
Cooling mode of hydraulic system
Fan cooling
Max. theoretical capacity
m3/h
H-pressure
55
m3/h
L-pressure
100
Pumping distance (H-pressure)
Max. Horizontal
m
125A pipe
880
Max. Vertical
m
125A pipe
220
Hopper capacity
m3
0.6
Feeding height
mm
≤1500
Concrete slump
cm
14~23
Max. aggregate diameter
mm
Crushed stone: 40 / Pebble: 50
Valve
S Valve
Water pump for cleaning
Equipped
Concrete pipe cleaning mode
Water cleaning
Water tank capacity
L
400
Lubrication mode
Automatic
Overall dimension
Length (mm)*Width (mm)*Height (mm)
mm
9195*2458*2623
Full-load total weight
Kg
13500
Note: Our products are updated constantly, if there is any data discrepancy, please refer to the actual product.
Tags: concrete trailer pumps trailer pump for sale trailer concrete pumps Concrete Pump On Trailer finlay block making machine concrete transit mixer price mayco concrete pump manufacturer mobile concrete plants
Solutions