Detailed Photos
Performance
1. Main body frame: apply high-duty structural steel and Special welding technic, its outstanding steadiness will guarantee the equipment's rigidity and seismic resistance.
2. Guidepost: apply with super special steel, chromeplated surface will give good torsion resistance and wear-resisting performance, plus Four rod guide mode and over-length type guide bearing, which guarantees the accurate move of indenter and molds; moving parts apply special device, in order to easy lubricate and not easy wear.
3. Color system: The color device crane apply hydraulic system control, by connection of rubber spring and crane the color device and hopper vibrating will be damped, in the meantime, it can prevent the left color concreted, discharge gate control the hopper, in order to achieve evenly color distributing.
4. Distribution system: apply design of material storage and material separate dividing tech. material box feeding can be precisely controlled, under the effect of enforcing broken arch machine, which generate strong centrifugal discharging force, to make material distributing fast and even.
5. Vibration system: Separate coupling vibration technology is used to expand the effective vibration area by 2 times, which greatly improve the quality and output of the production, and effectively extend the life of the mold; The vibration box adopts a suspended structure and can withstand severe vibration without damage. And the vibrating shaft adopts the eccentric synchronous rotation structure to generate the excitation force in the vertical direction, which can optimize the fabric and the forming effect.
6.PLC control system: set the technical parameters such as flow and pressure of each action through the touch screen to achieve ideal man-machine dialogue. The control system consists of three control units: batch mixing automatic program control system, molding host, transport board machine, lift-unload automatic program control system and weight control system. The electrical components of this system are all imported brand products, such as Mitsubishi, Omron, Siemens, etc, thus ensure reliable performance and low failure rate.
7. Multi-purpose of one machine: By replacing the mold, it can produce cement products with different specifications of porous bricks, hollow blocks, roadside stones, pavement bricks, grass bricks and slope protection bricks. The fabric device can produce products such as colorful pavers.
Specification
1. QT6-15B Hydraulic block making machine theoretical data:
| | | | |
| --- | --- | --- | --- |
| Dimension Of block making machine | 4410×2000×2510mm | Motor Power | 36.4KW |
| Mould Area | 680×900mm | Vibration Force | 88KN |
| Working cycle | 15-18S | Concrete mixer model | JS500 |
| The Size Of The Pallet | 900×680×30mm | Weight Of The block making machine | 7000kgs |

2. QT6-15B Hydraulic brick forming machine Production capacity:
Size(LxWxH)
Pcs/Mould
Pcs/ Hr
Pcs/ 8 Hr
400X100X200
8
1800-2880
14400-23040
400X150X200
8
1350-2160
10800-17280
400X200X200
6
900-1440
7200-11520
400X250X200
3
675-960
5400-8640
200X100X60
16
2880
23040
200X163X60
8
1800
14400
We can provide different sizes mould as you request.
3. How does Automatic Block Making Machine work?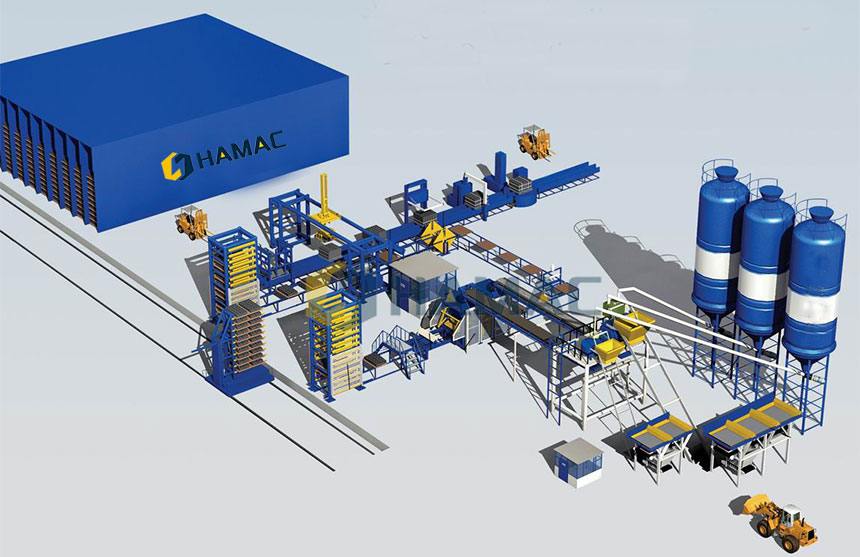 1. Cement silo and screw conveyor: The cement silo is used to store the bulk cement which is used for concrete. The screw conveyor is connect with the cement silo and concrete mixer to transfer the cement into the concrete mixer. These two parts are optional parts. You can get them at local market or purchase them from us together with our block making machine;

2. Aggregate batching machine: It consists of two or three storage bins and one weighing bin. It also contains belt conveyers which is used to convey aggregate and sand from the storage bins to weighing bin. Batching and weighing is controlled by PLC.
3. Concrete Mixer: All the ingredients are mixed in this concrete mixer. Mixing time and speed is controlled by PLC. The water pump which is controlled by time relay adds water to the mixer automatically;
4. Belt conveyor: after the concrete is ready, it will be discharged to this belt conveyor, the belt conveyor will transfer the concrete to the concrete block machine;
5. Block making machine: This is key part of the production line. It presses the concrete to block. It can be used to make various hollow block, solid brick, paver brick and kerbstone by changing different sizes moulds;
6. Stacker: Stacker is used to stack the blocks automatically, which is high-efficient and labor saving.
7. After the above procedures, the blocks will be transported to the storage yard for drying.
4. Block and Brick Models: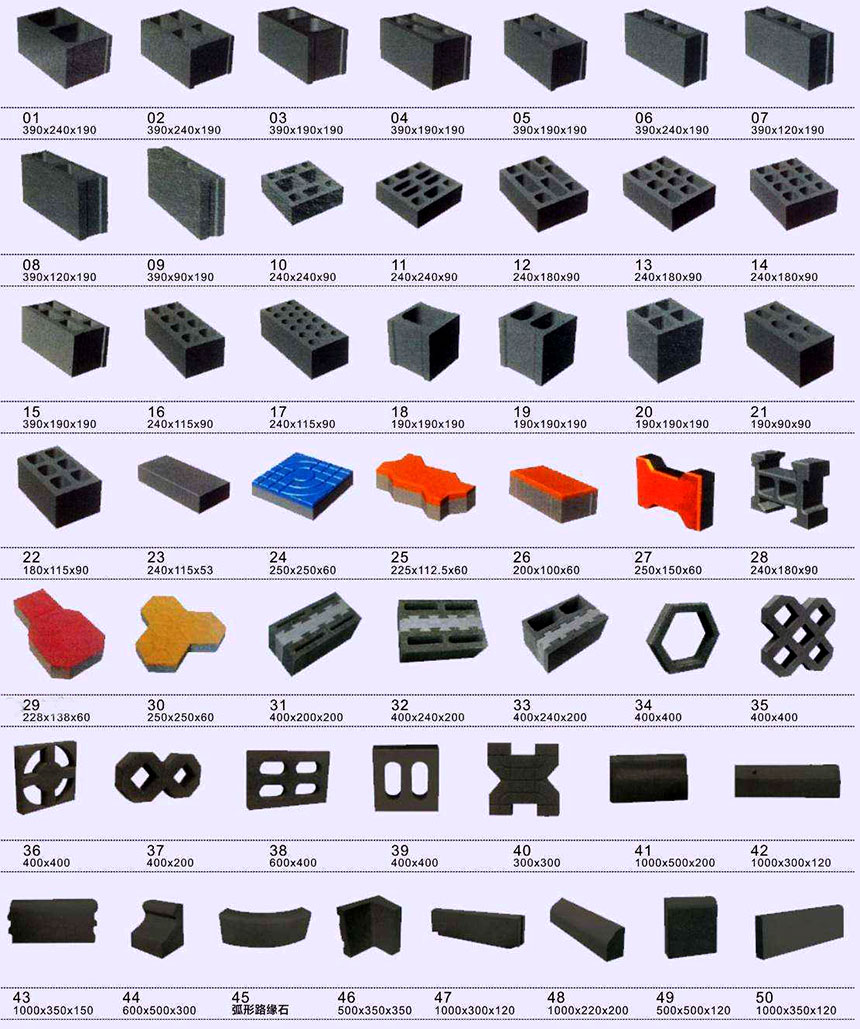 Tags: paving block making machine interlock brick making machine mud brick making machine suppliers hollow brick manufacturing machine stationary concrete pump paving block making machine small cement mixer for sale schwing concrete pump trucks for sale
Solutions