HMC250 2.5m3 self loading concrete mixer truck participates in the infrastructure in Santa Ana del Conde, Mexico
The client is a construction company in Mexico, located in the state of Guanajuato. They mainly contract some road construction, square construction, factory construction, playground construction, low-rise buildings, etc. Considering that there are many engineering projects such as roads, squares, factories, playgrounds, etc. contracted, we recommend customers to use our self-loading mixer trucks for sale. Because the self load concrete mixer is very convenient and performs very well, this customer is very satisfied after receiving this 2m3 self loading concrete mixer for sale, and has recommended the equipment to friends many times.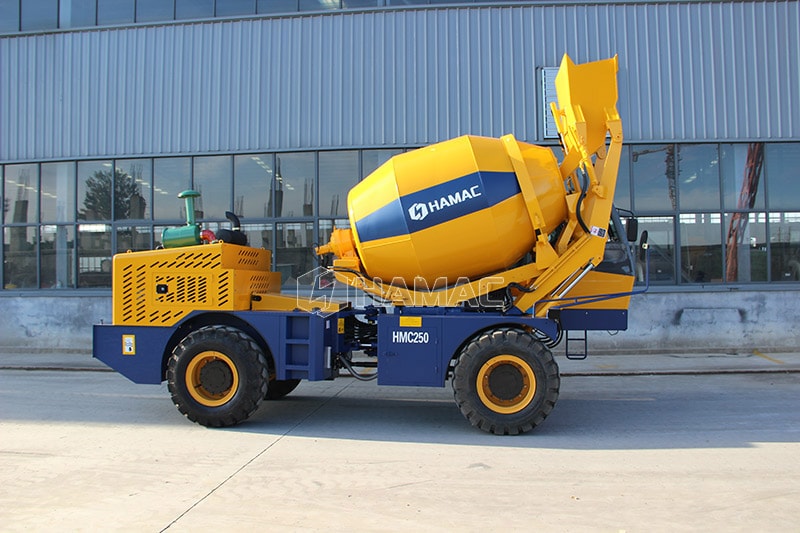 Front view of HMC250 self loading concrete mixer for sale
Detailed information of this HMC250 self loading concrete mixer for sale
Drum discharge capacity: 2.5m3
Capacity: 4 drums per hour, theoretically 10 m3/hour.
Engine power:78 kW
Engine brand: YUCHAI/CUMMINS
This automatic self load mixer truck for sale designed by HAMAC integrates 4 functions of feeding, weighing, mixing and unloading. It is called a small mixing station operated by one person. Depending on the volume of the mixing tank, we have a variety of models from 1.5 to 6 cubic meters for customers to choose from. This self loading concrete mixer automatic type has its own weighing system, which can accurately measure the weight of each material feeding. It also has automatic water supply system which controlled by time relay. It is equipped with function of 270-degree tank body rotation. This advantage of the self loading cement mixer truck is convenient to complete the unloading in different directions of front, rear, left and right. From loading to unloading, a tank of concrete can be finished within 15 minutes. Compared with the traditional concrete mixer, this self-loading concrete mixer of high quality greatly improves the work efficiency.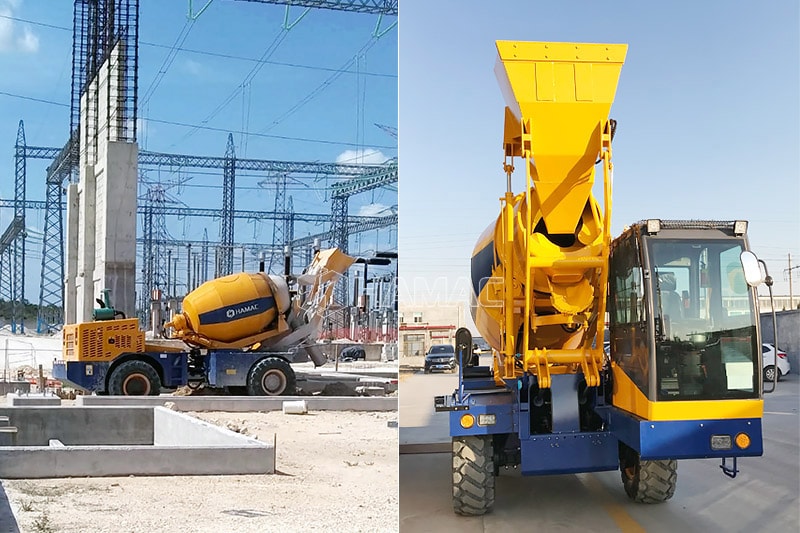 HMC250 self loading concrete mixer truck is working for a workshop.
As a reliable manufacturer and exporter of self loading concrete mixer for sales in China, HAMAC sells good quality self loading concrete mixer trucks at an affordable and reasonable price to more than 100 countries around the world every year with the aim of quality and service, and contributes to the infrastructure construction of many countries.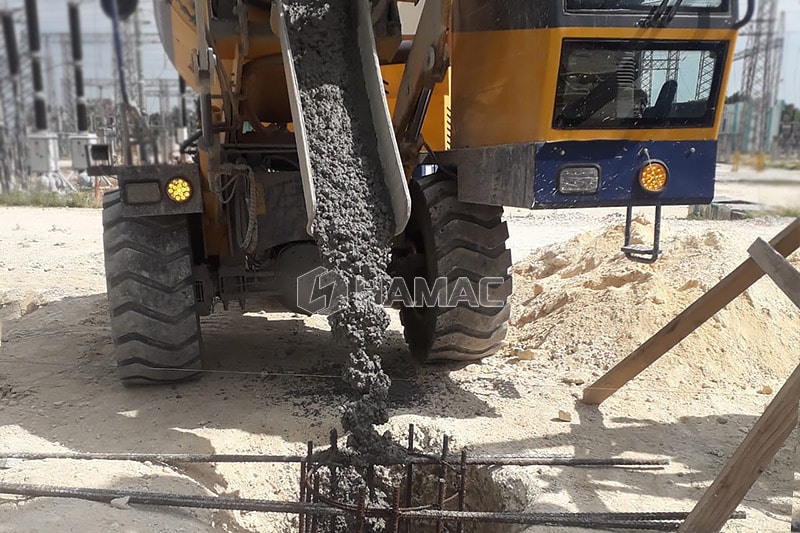 Ready mixed concrete is discharged from this self loading concrete mixer.
If you want to visit this project on site, or contact our client to check the machine's work performance, please contact us: Email:[email protected] WhatsApp:+8615136236223