HGY33 self-climbing concrete placing boom in Chile
One unit of HGY33 self-climbing concrete placing boom was delivered to Chile in 2019. This model is equipped with 33m length boom, without counterweight. Concrete placing boom is a popular machines works in Chile. There are many high rise buildings in Chile because its long coast. This machine is mainly used in the high buildings.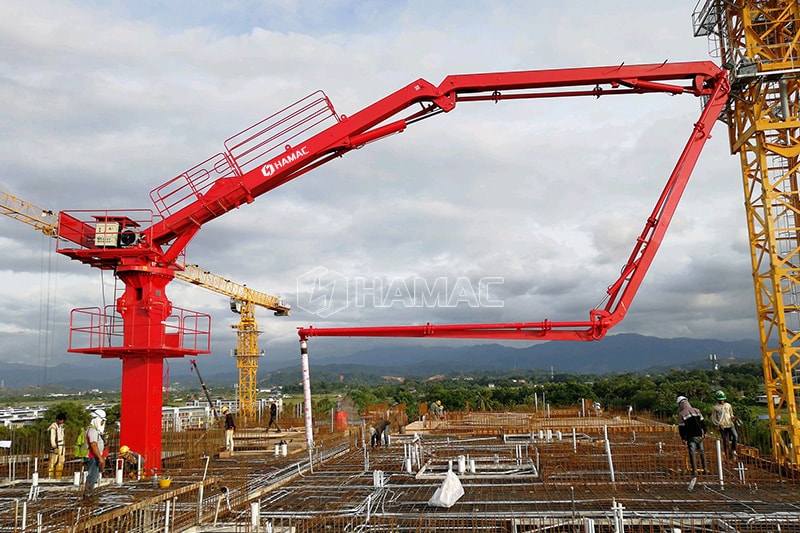 HGY33 stationary concrete placing boom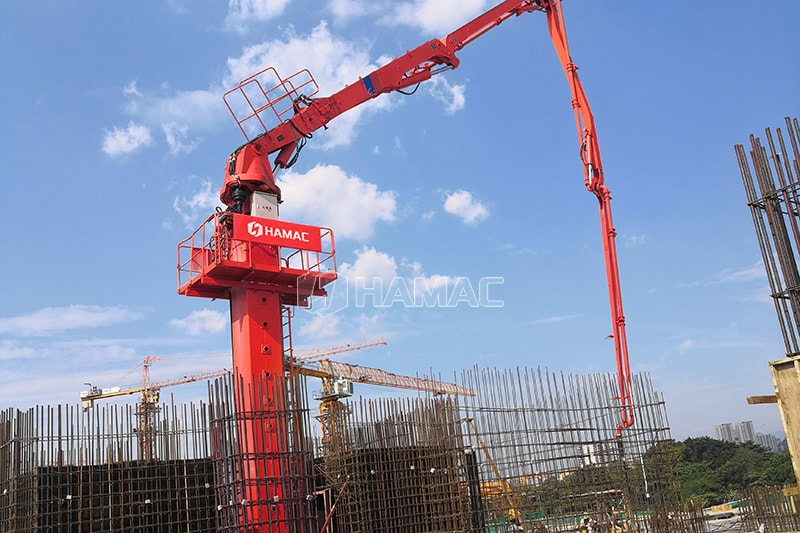 Self-climbing concrete placing boom without counterweight
What is a concrete placing boom?
Concrete placing boom is the terminal equipment connected to the various concrete pumps (concrete line pump, trailer concrete pump etc) and then placing the concrete. It is an auxiliary equipment of concrete conveying pump. It is connected by standard 5 inches conveying piping, just like a manipulator can quickly and accurately reach any pouring part of the working surface and carry out continuous pouring, which is a better solution to the problem. The distribution problem of concrete conveying greatly reduces labor intensity and improves the progress and quality of construction.
Features of a self-climbing concrete placing boom for sale
1. Use the building floor to climb up by itself, and it will rise with the rise of the floor, the process is simple and convenient;
2. It is not limited by the elevator shaft and the presence or absence of the elevator shaft;
3. It can meet the pouring requirements of the high-rise working surface and is not limited by height;
4. Protect the device scientific and safely, economical and efficient;
5. This type concrete placing boom is mainly suitable for high-rise and super-high-rise buildings, and is not restricted by the shaft.
What is the price of concrete placing boom?
The price of the concrete placing boom for sale is related to the model and configuration specifications, such as: the coverage area (placing radius) and configuration. At present, there are three types of distribution machines in the market: manual type placing boom, mobile spider concrete placing boom, and self-climbing placing boom. The use method and effect of a placing boom machine are also different, so the price is also different.
1.The manual type concrete placing pipe is the cheapest one. It has a simple structure and low cost. The time of delivery is about 3 days. It is fully manual operation, so the cost is low and the price is relatively cheap. The models are 12 meters, 15 meters, and 18 meters. Three specifications, prices ranging from 2000-3000USD;
2.The hydraulic placing boom machine is also an intelligent placing boom machine, and it is also a one-time pouring and molding equipment for concrete on the market. It is also a time-saving, labor-saving and high-efficiency equipment for concrete pouring. One person can perform concrete pouring, which is more than three times the efficiency of traditional concrete pouring. The model is also a relatively comprehensive placing machine, from 13 meters to 36 meters (placing radius), because the price of full hydraulic intelligent operation is relatively high, the price is more than USD20000, and the detailed price needs to be confirmed with manufacturer's sales manager.
HAMAC Concrete placing boom are being used in different countries.
HAMAC concrete placing booms have been used on some of the tallest buildings in the world. Our complete line maximizes your system and provides flexibility, so that you can place concrete faster and more uniformly with pinpoint accuracy. Unmatched in the industry, HAMAC concrete placing booms provide the highest free-standing heights and offer a wide range of mounting and climbing configurations.
Our concrete placing boom have been exported to European countries, Bahrain in the Middle East, Colombia, Costa Rica, Peru, Chile and other countries in Latin America. We have received positive feedback from our customers who gave high marks to our equipment.
If you want to visit this project on site, or contact our client to check the machine's work performance, please contact us: Email:[email protected] WhatsApp:+8615136236223